In 2012, Ninestar started to invest in its automated production lines to provide customers with consistently high-quality remanufactured cartridges. Among those original lines were eight remanufactured ink cartridge lines which were designed to produce over 65K pcs every day.
Today, Ninestar still operates more automated production lines than any other aftermarket supplier. Key to the automation process, is the thorough cleaning of the used ink cartridges that have been collected and returned. Every used cartridge is cleaned three times in the Ninestar factory before being remanufactured. After being dried, the cartridges are refilled with a superior, quality ink on one of the eight advanced automated production lines.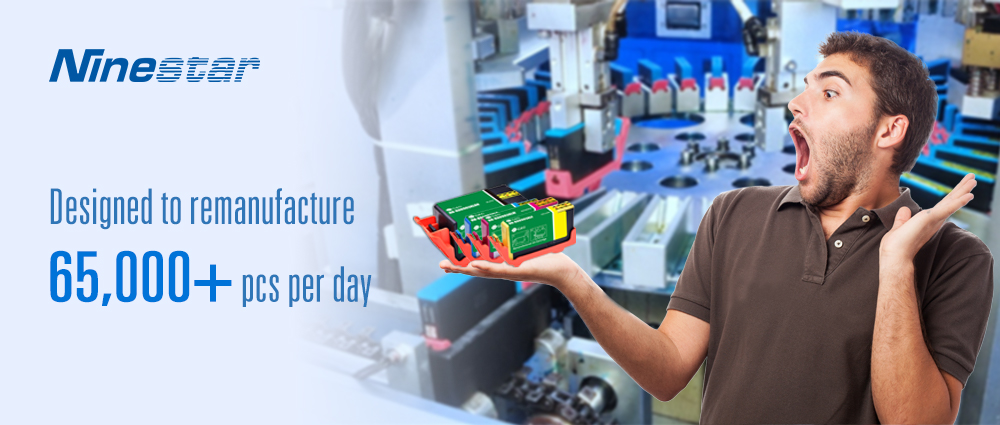 There are four reasons that make Ninestar remanufactured ink cartridges unique, helping its partners and distributors to stand out from the crowd.
>Batch-to-Batch Consistent Quality
The smart lines drastically improve the accuracy of the production, enhance the consistency and stability of the products, minimize hand-made errors while delivering a success rate of up to 99%.
>50% More Page Yield
While offering top-quality products equivalent to the OEM standard, Ninestar includes additional ink to increase the page yield to be up to 50% higher than the OEM.
>Quicker Delivery
Since implementing smart lines, Ninestar has found it can significantly shorten delivery times—almost three times faster than when using hand-made production lines—to improve logistical services which in turn grows its customer's brands, revenues and profits.
>Green-thinking
Ninestar has been concerned about the environment since it commenced operations back in 2000. Its G&G "Going Green" strategy has seen the company recycle and remanufacture cartridges all of that time. Ninestar operates its own state-of-the-art sewage treatment station, to turn water polluted by cartridge cleaning, into clean water. Ninestar also put solar panels on its factory roofs to capture sunlight to help run the automated lines.

>Cartridges remanufactured on these lines include:
EPSON T200/202/288/702/252/212 BK/C/M/Y
EPSON 802/812/822 BK/C/M/Y
HP 910/903/564 BK/C/M/Y
HP 951/952/962/963 C/M/Y
HP 950/952/962/963 BK
HP 60/61/62/63/64/65/67 BK
HP Eco-Saver series
Ninestar's automated production line technology originates from its relentless pursuit of product quality and efficiency. Ninestar remains committed to scaling up its operations and is planning to add another three fully automated ink cartridge lines in the future.
For more information, please contact your sales manager or send email to info@ggimage.com.