G&G has taken another step forward in its sustainability journey by receiving FSC Chain-of-Custody Certification for its copy, label and photo papers.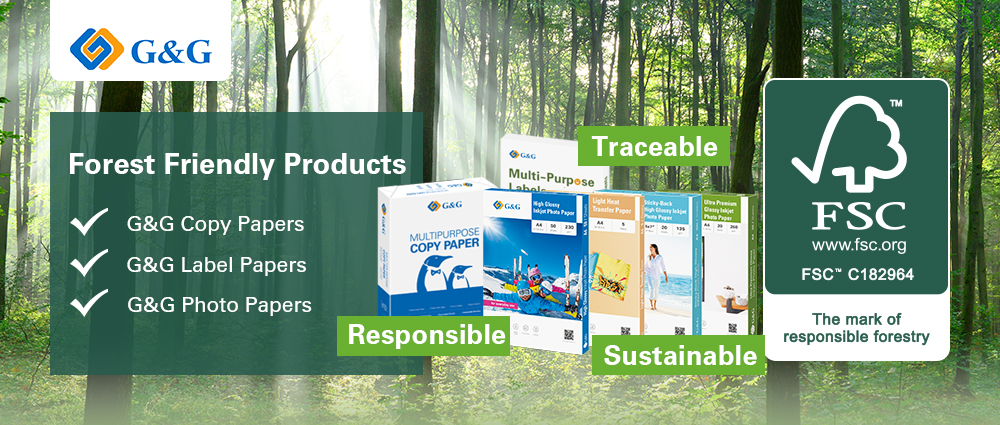 The Forest Stewardship Council, or FSC, is an independent, non-profit organization that has established a certification system to promote the responsible management of the world's forests. Chain-of-custody is the path taken by raw materials harvested from FSC-certified sources through processing, manufacturing and distribution until it's a final product ready for sale to the end-user.
When end-users purchase FSC-labelled products, they're helping forests, and the people that rely on them, to thrive by supporting zero deforestation, biodiversity preservation, community rights, fair wage and work environment.  
"We all have a role to play in protecting the future of our forests and our kids," said Eric Zhang, General Manager of Ninestar Image. "G&G is committed to its corporate social responsibility efforts and we're conscientiously doing our part."
To earn FSC certification, G&G underwent rounds of rigorous auditing processes conducted by the Swiss-based SGS, the world's leading testing, inspection, and certification company.
Becoming FSC certified is just one element of G&G's endeavor to provide sustainable solutions. In 2020, G&G has developed a robust recycling plan in Europe, the USA and China to lower the impact of products on the environment; clean energy has been used to manufacture G&G's high quality printing consumables. Still, G&G's eco-efforts never stop.
For more information about sustainability at G&G, view Ninestar's 2021 ESG Report, and follow G&G on LinkedIn, Twitter and Facebook to stay connected with our sustainability efforts in the future.