As the indispensable accessories in business or household, cartridges are frequent consumables of printers. Sometimes, the total cost of them could be even higher than a printer. Therefore, you can't just neglect the unimpressive components inside your printer. G&G thereby initiates a new column called Print Lab on social media, to help consumer better take advantage of the cartridges.

Here we summarize the previous contents of 4 facts you must know about the cartridges:

1. Would the printer cartridge dry out?
For ink cartridge, it happens a lot. So remember to print every couple of weeks to keep them work occasionally. Besides, cleaning the printhead does help when the cartridge dries out. For more detailed guidelines, please visit the video: How to fix clogged printheads?

For toner cartridge, since it basically composes of dry powder, you don't need to worry about it drying out. If it's not used for a long time, just take the toner cartridge out and shake it 8-10 times before use.

2. Original or compatible?
>> Price: Generally, the price of a compatible toner is 30-70% of the OEMs'. But be careful! If a cartridge is unexpectedly cheap, it may harm the printer. It's strongly suggested that you pick a well-known brand when choosing compatible products.
>> Quality: OEM products work stably because of their printer technology. Yet some compatible cartridge suppliers also manufacture proprietary printers. Thus they're able to deliver OEM-equivalent products.
>> Page Yield: Most compatible products offer a "Jumbo" design that usually prints 30% more pages and costs less per page compared to OEM products.
>> Eco-Friendly: Printing consumables are closely related to your health. Whether you buy an OEM or a compatible, you should buy the products compliant with regulations as RoHS, REACH, ISO14001 and ISO9001 etc.

3. A trivial but vital function: the display of ink level
Have you ever rushed to print the business documents yet to find no cartridges left? It may cause some trouble if you suddenly find the cartridge running out of ink. Don't worry, G&G has self-developed E-patch technology which allows cartridges to show ink level accurately. A real-time display ensures a reliable working situation. Find more in the video:
https://www.facebook.com/GGImageGlobal/videos/586856645198984/

4. How to store toner cartridges in the right way?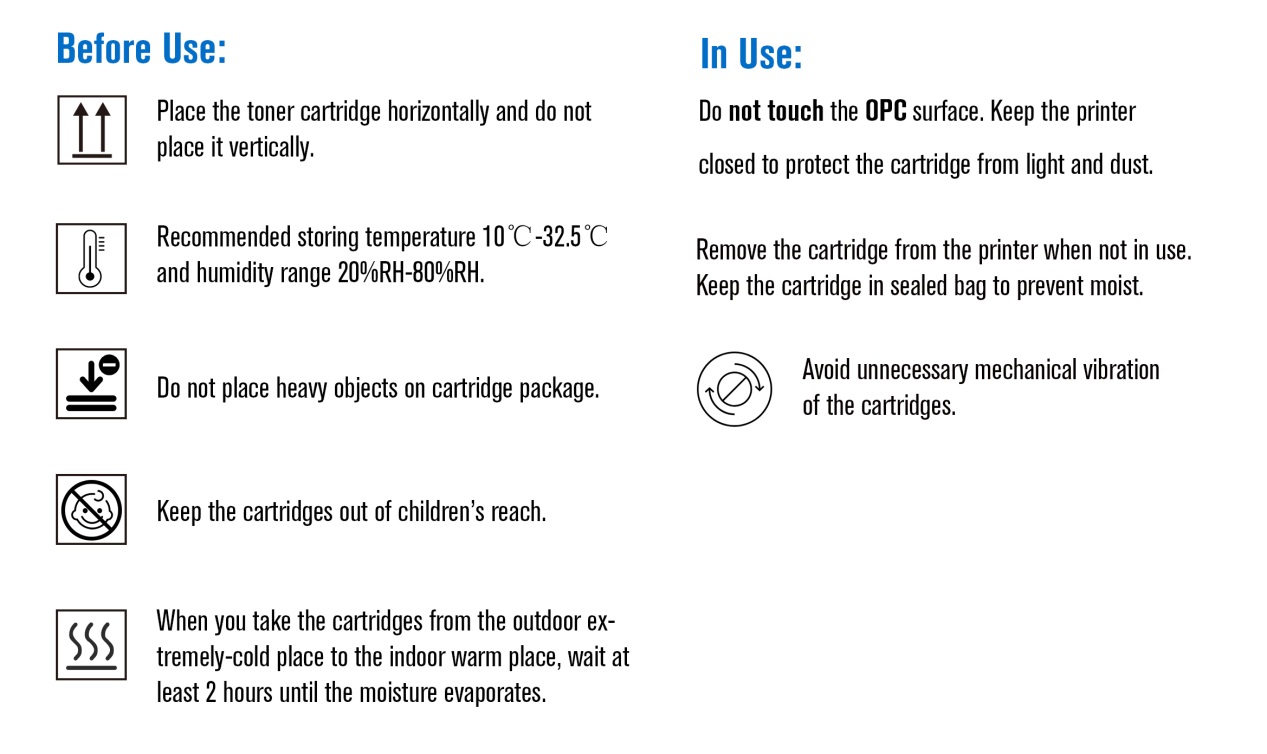 More tips about cartridges are coming up on our social media accounts. Come and follow us on Facebook, LinkedIn, and Twitter @G&G Image Global.