Themed "With Branding, Target the Top", the 3rd G&G Distributors Conference was held in Stresa, Italy on May 19th. Over 70 EMEA distributors, guests and media friends were invited to join this party. This was a landmark occasion for all distinguished G&G family members in EMEA.
Mr. Jason Wang, General Manager of Ninestar Image, introduced the integrated pyramid strength of Ninestar and G&G in his welcome speech. He pointed out that Ninestar gradually encompasses the industry core supply chain from "components to consumables, consumables to printers" by integration and optimization of resources after the acquisition of SCC in 2015 and the acquisition of Lexmark in 2016. That is the reason that Ninestar provides different printing solutions from low-end to high-end, with each product line satisfying different customer demands.
Mr. David Connett from Connett & Unland GbR focused on imaging distributors. In his presentation, he presented the history of market disruptors from Guttenberg to the modern era. G&G was also recognized as a disruptor in the aftermarket. Mr. David Gibbons from RT Media gave a speech themed on Why You Need a Brand Not Just a Logo. He expressed that the logo is the tip of the brand iceberg. The invisible part such as product quality and service is more important.
During the conference, Ms. Helena Huang, the Marketing Director of Ninestar Image, announced the official launch of G&G's new website. The new website, www.ggimage.com, offers better user experience and complete product information. In addition, a back-to-school marketing campaign was released for global G&G distributors. For further information about this campaign, please contact your sales manager.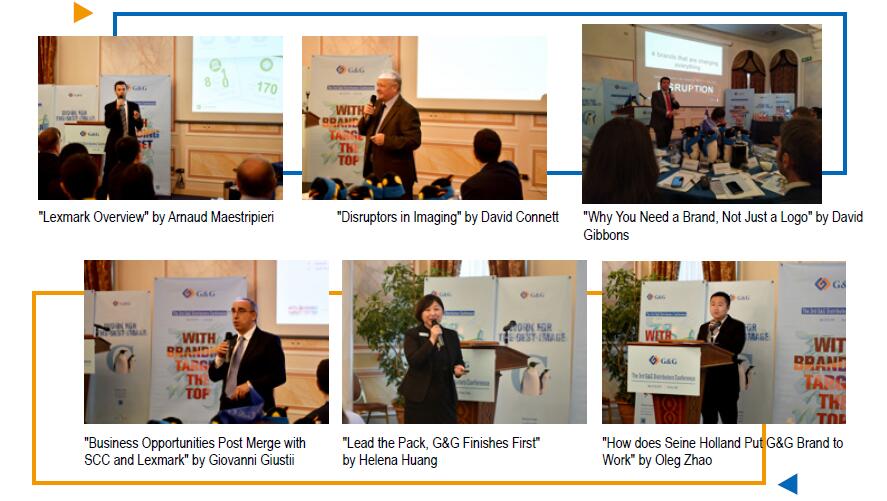 This was the first time that Lexmark & Pantum presented their 2017 business strategy & new product roadmap as a hardware printing solution under one company. Mr. Giovanni Giusti from DOXENSE was invited as a special VIP industry professional expert to share his opinions about the acquisition. He believes that there will be more business opportunities moving forward with Lexmark. The acquisition will create value for both companies and more opportunities for resellers
Today, G&G is trying its best to cover more ground to offer professional printing solutions to worldwide customers. G&G insists on technology innovation, respects IP, and dedicates itself to providing good products and good service to customers. So far, G&G is a brand with 16 years of history and is well recognized by worldwide customers. If you are interested in G&G and would like more information on how to accelerate and expand your total imaging solution business, please contact us at info@ggimage.com to learn more.
Our European branch Seine (Holland) B.V. focuses on supporting local EU countries agent in the past 16 years. Now it has become a top logistics & warehousing center for G&G cartridges in European market. If you are interested in G&G brand distribution, please also can contact europe@ggimage.com or 0031-297-789-380.